Powhatan Plantation is a holiday complex operated by Diamond Resorts.
We were at Powhatan Plantation from 23 September –3rd October 2007.and had a great holiday.  I won't say much about the site as it's well covered above and the main point about going there was the history so it was just a base.
We had a refurbished unit (we were told by the Rep that 80% were refurbished, by another guest about 66%), 2 bed upper floor with everything we needed.  No electric kettle, the coffee maker used either bags (3 given at reception) or filter cones – suggest you take enough with you.
We went to the Grill on Monday morning when a local historian give a very entertaining talk, impersonating Martha Washington (Mrs George W that is).  It was very well attended an the buffet breakfast was a bit of a scrum.
We had dinner in the Grill on Tuesday and neither of us particularly wanted to go back.  We had dinner twice in the kitchen where the food was excellent ($100 for two with wine, plus $20.00 tip).  They couldn't tell me why they insisted on serving hot meals on cold plates.
We went to a wine tasting in the Mansion and booked tickets for dinner at Williamsburg Winery ($95.00 for two people, 4 courses and wines).  Good food, cold plates and enthusiastic but amateur service.  Got a lift from a nice US couple but I believe a taxi would be about $12.00 each way.  Advice from one of the  staff at the wine tasting 'The local rule is - if your head buzzes don't drive"!
The mansion has jewellery and Capo di Monte presentations/sales most afternoons
We went to the 'Welcome' aka sales meeting and got bamboozled by talk about 'getting in now before the rules all change on 30th September'.  We have enough points anyway having topped up through this group.  He did make veiled hints that 'third party points' wouldn't be accepted when it all changed – we still didn't buy.  This presentation was at Greensprings which looked very nice indeed.  The apartments there are newer and it's just as handy for getting about the area.  We came away with (2 day) vouchers for Colonial Williamsburg.  We upgraded these for the Freedom Pass which is good for a year and let us go to and fro as we pleased.
If you have any interest in history or tradition or craftsmanship then you should go to this area.  There are three towns with 20 miles with enough to keep you occupied for a week at least.  Probably not for children though they do try to entertain them.  They are all on a quiet road (Colonial Parkway) which takes you from Car park to Car Park.  You will have to walk quite a bit.  There are access facilities everywhere.  You will definitely need a car in this area.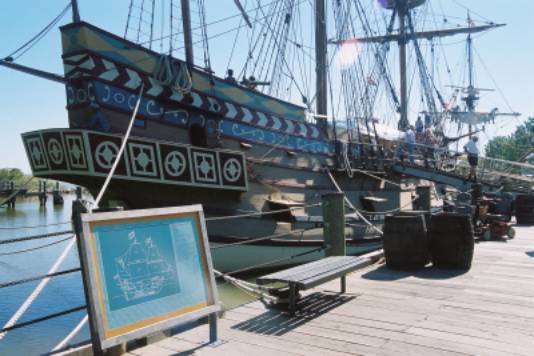 Jamestown – we spent a day – is where the first English settlers landed in 1607.  There is a big exhibition building with displays and in most rooms a mini video cinema to explain what happened.  Outside there is an Indian village (the Powhatan's were the indigeneous tribe, Chief Powhatan's daughter was Pocahontas) then a recreation of the fort with 'interpreters' in period costume and finally a harbour with three full size recreations of the three ships which made the original crossing.  After a very difficult beginning, they started to grow tobacco and prospered.  In 1700 the Capitol building burned down and they move the capital of Virginia to a new planned town at Williamsburg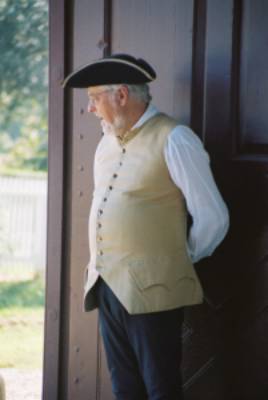 Colonial Williamsburg is the quite small area of the original town set in sprawling modern Williamsburg.  It is as near as possible a recreation of the town as it was in 1776 when the War of Independence started.  George Washington and Thomas Jefferson were Burgesses under a Governor sent out by the King.  You start at the visitor centre (free parking) and walk or shuttle bus to the town.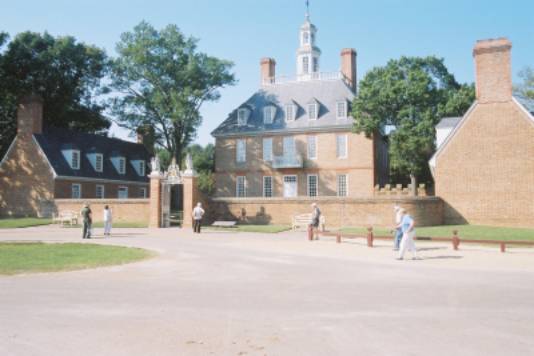 I can go on and on about the delights to be found – the Governor's Palace, the Capitol, the Courthouse and various merchant's houses but the highlights for me were the trade workshops all over the place.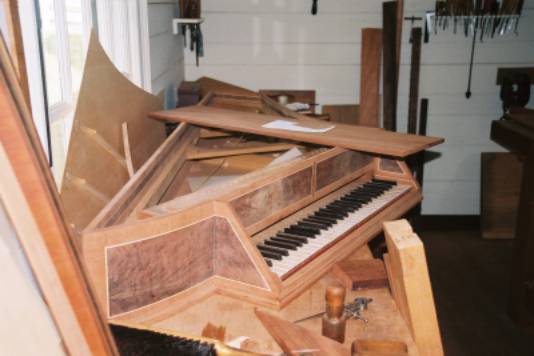 I saw a Cabinetmaker making a harpsichord; a Gunsmith making a rifle, starting with flat iron strip; Coopers making casks; a Shoemaker who would make shoes in a day and riding boots in a week; Spinning and weaving, a Foundry and more.  All of these were being done by hand, using tools and methods of the time.  All the 'inhabitants' were in period dress.  We were told that at least half of them were history graduates and some genuinely were still Apprentices learning from a Master in the time honoured way.  Here's an apprentice cooper with her master and a Journeyman.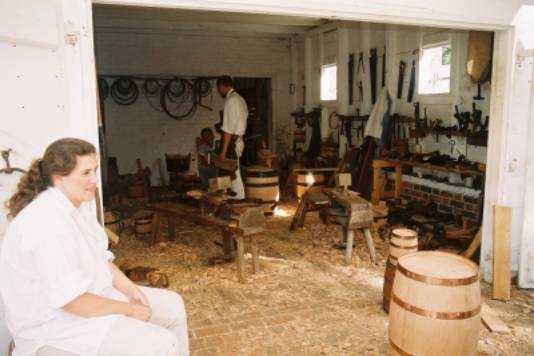 We went to one of Taverns for dinner.  It was a good meal with entertainment by a musician and a 'tipsy gentleman' who wandered from room to room.
Yorktown is where the final battle of the War of Independence was fought and General Cornwallis surrendered.  It was later fought over in the Civil War.  It is worth a visit, we spent part of a day and didn't see it all, if you wanted to tramp over the battlefields you should spend a day.  There are two locations, one about the battle the other a museum of early farming and living.
We shortened our stay to spend 4 night in a hotel in Washington DC.  This was a great success – yet more history from the original Declaration of Independence to the 1903 Wright Flyer, Dorothy's red slippers, Art Galleries, restaurants etc etc.  More like Paris than New York.
You'll have gathered that this was 'the holiday of a lifetime'.  There are beaches nearby, there are major attractions like Busch Gardens but if you have any feeling for the past you will have great time all within 20 miles of Powhatan or Greensprings.